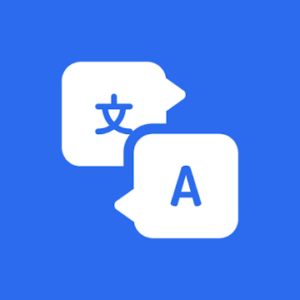 Chat Translator – Swift Translate breaks the language barrier allowing you to chat with with people that different language.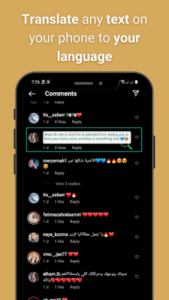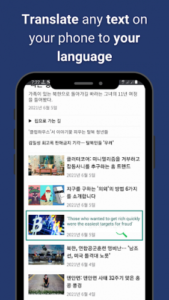 It translate their messages to your language and translate your messages to their language, making communication easier and faster. Can be use in all the popular messaging apps like whatsapp and messenger.
Chat Translator – Swift Translate can be used to translate any visible foreign text on your phone screen to your language, messages, comments, news and social media posts all can be easily translated to your language.
KEY FEATURES
■ Translate any visible foreign text on your phone screen to your language
■ Translate every message you received in any language to your language
■ Automatically detect your friend language
■ Translate every message you typed to friend's language
Translations between the following languages are supported:
Afrikaans, Albanian, Amharic, Arabic, Armenian, Azerbaijani, Basque, Belarusian, Bengali, Bosnian, Bulgarian, Catalan, Cebuano, Chichewa, Chinese (Simplified), Chinese (Traditional), Corsican, Croatian, Czech, Danish, Dutch, English, Esperanto, Estonian, Filipino, Finnish, French, Frisian, Galician, Georgian, German, Greek, Gujarati, Haitian Creole, Hausa, Hawaiian, Hebrew, Hindi, Hmong, Hungarian, Icelandic, Igbo, Indonesian, Irish, Italian, Japanese, Javanese, Kannada, Kazakh, Khmer, Kinyarwanda, Korean, Kurdish (Kurmanji), Kyrgyz, Lao, Latin, Latvian, Lithuanian, Luxembourgish, Macedonian, Malagasy, Malay, Malayalam, Maltese, Maori, Marathi, Mongolian, Myanmar (Burmese), Nepali, Norwegian, Odia (Oriya), Pashto, Persian, Polish, Portuguese, Punjabi, Romanian, Russian, Samoan, Scots Gaelic, Serbian, Sesotho, Shona, Sindhi, Sinhala, Slovak, Slovenian, Somali, Spanish, Sundanese, Swahili, Swedish, Tajik, Tamil, Tatar, Telugu, Thai, Turkish, Turkmen, Ukrainian, Urdu, Uyghur, Uzbek, Vietnamese, Welsh, Xhosa, Yiddish, Yoruba, Zulu
What's New:
■ You can now translate text in images
■ Easily change the position of the translation icon on the screen
■ Translate all text on screen
Premium Features Unlocked
Ads blocked
analytics blocked
Language: ar,de,es,fr,hi,it,ja,ko,pt,pt-BR,ru,th,tr,zh,zh-CN
CPU: armeabi-v7a & x86
This app has no advertisements
Screenshots
Downloads
Chat Translator SwiftTranslate v1.4.9 [Premium] Armeabi-v7a APK / Mirror

Chat Translator SwiftTranslate v1.4.9 [Premium] X86 APK / Mirror