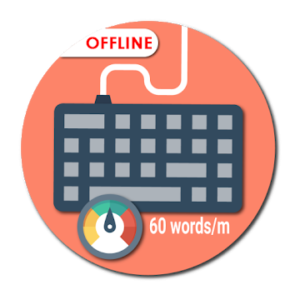 This app is an offline and ad-free version of the Typing Speed Test app. Typing Speed Test app is useful to test/measure the typing speed of a user.
It helps you find, how fast you can type. The app has a rich set of free typing lessons with options like hard/medium/easy typing to do online typing practice. Letters are highlighted to help you focus on typing. Use this app as a typing practice app for various government exams. This also helps you do the online typing test in Hindi/English/Gujarati language. You can become a typing master with the help of this app or can play typing games for fun. You can practice typing in Hindi and Gujarati language too. You need to add the Hindi and Gujarati keyboard to type in that language. Shortcuts are not supported in this version.
Typing speed practice lessons show you result with information like:
» Number of Correct Characters typed
» Number of Wrong Characters typed
» Typing Speed in Words Per Minute (WPM)
» Typing Accuracy in terms of Percentage (%)
Some of the key features of the app are:
> Character Practice – Get acquainted with the keypad and start speed typing. Get the statistics Characters Per Minute (CPM) of the typed character.
> Word Practice – Practice word, with typing lessons. Press "space" to get the next word on the screen. Statistics (WPM – Words Per Minute) will show your accuracy in words per minute (average WPM).
> Sentence Practice – Typing test paragraphs will help you increase your typing speed and helps you become the fastest typer. Practice the paragraphs by fast typing it and appear for typing test.
> Give A Test – Test timing options are one/two/five/ten minutes or you can set custom timing. The test will start after you type the first character of the paragraph shown. Use the typing master test and challenge your friend for a typing test game.
> Test History – Save the result of the test for future referral. You can even download and share the result with your friends and family members.
> Score Board – App shows top scorer around the world. Take part in typing test challenge and show your typing speed to all.
> The App shows your Rank in the scoreboard for the test you appeared
> User can connect the physical keyboard with a phone using OTG Cable.
> Added fonts: KrutiDev010, Mangal (Inscript), & Mangal Remington (Gail)
> You can share the free typing test app with your friends and family members.
This App is developed at ASWDC by Prof. Mehul Bhundiya, Computer Department. ASWDC is Apps, Software, and Website Development Center @ Darshan Institute of Engineering & Technology, Rajkot run by Students & Staff of Computer Engineering Department
Call us: +91-97277-47317
Write to us: aswdc@darshan.ac.in
Visit: http://www.aswdc.in http://www.darshan.ac.in
Follow us on Facebook: https://www.facebook.com/DarshanInstitute.Official
Follows us on Twitter: https://twitter.com/darshan_inst
Package Info:
● Supported Languages: af, am, ar, as, az, be, bg, bn, bs, ca, cs, da, de, el, en-AU, en-CA, en-GB, en-IN, en-XC, es, es-419, es-US, et, eu, fa, fi, fr, fr-CA, gl, gu, hi, hr, hu, hy, in, is, it, iw, ja, ka, kk, km, kn, ko, ky, lo, lt, lv, mk, ml, mn, mr, ms, my, nb, ne, nl, or, pa, pl, pt, pt-BR, pt-PT, ro, ru, si, sk, sl, sq, sr, sr-Latn, sv, sw, ta, te, th, tl, tr, uk, ur, uz, vi, zh-CN, zh-HK, zh-TW, zu;
● Supported CPU architecture: None;
● Supported Screen DPI: Ldpi, Mdpi, Tvdpi, Hdpi, Xhdpi, Xxhdpi, Xxxhdpi.
Mod Info:
● Ads Removed / Disabled.
● A Skip Remove Ads Dialog.
● All Unnecessary Menu Item Remove Like:
– Contact Us, About, Rate, Developers.
● Ads Related Activity & Code Removed / Disabled.
● Ads Related Layouts Visibility Gone.
● Analytics / Crashlytics Removed / Disabled.
● Receivers and Services Removed / Disabled.
● Google Play Services Check Removed / Disabled.
● Google Play Store Install Package Removed / Disabled.
● Play Services, Transport, Firebase Properties Removed.
● All Unnecessary Garbage Folder & File Removed.
● Duplicate Dpi Item Remove Like:
– Bar Length, Drawable Size, Gap Between Bars.
● Splits0 File Removed (Resources & AndroidManifest).
● Splits0 Releated Unnecessary Meta-Data Remove Like:
– Stamp Source, Stamp Type Standalone Apk, Android Vending Splits, Android Vending Derived Apk.
● Optimized PNG Save To 176 Kb.
● Optimized JPG Save To 31 Kb.
● Re-Compressed Classes.dex & Library.
● Optimized Graphics / Zipalign.
● Removed Debug Information (Source, Line, Param, Prologue, Local).
● Total Apk Size 9.38 Mb.
What's New:
– Reduced Application Size
– Ad Remove Option Available for 1 Day
– Bugs Fixes
This app has no advertisements
Screenshots
Downloads
Typing Speed Test – Master v7.5 APK [Patched] / Mirror