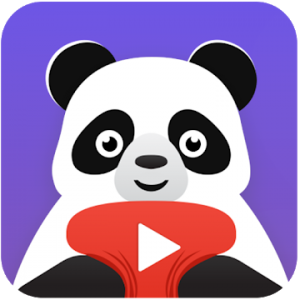 A new video compressor and video resizer from the people who created "Photo & Picture Resizer" (over 5 million users and ★4.6).
Panda​ Video Compressor is a comprehensive and easy app for reducing video size​ without losing too much quality.
Are you wondering how to reduce video sizes in an easy way and therefore looking for a fast and quick video compressor and size reducer? You are in the right place. Do you spend a lot of time on social media and need a tool for sharing smaller videos?
Here you go. You have just found the best video resizer and compression video tool for Instagram, Facebook, Youtube, Whatsapp,​ Viber, Line, Telegram, VKontakte, and KakaoTalk.
Now you will be able to upload your videos to social media channels and send them via email. The Panda Video resizer app will allow you to share videos on social media, send, and store them more easily. You will be able to start to compress videos & movies without losing quality and you will save space on your phone and​ in the cloud, as well as reduce data usage.
If you want to reduce video file sizes, compression offered by Panda Video Compressor will be your best choice.
Panda Video Compression tool is a comprehensive tool for resizing, reducing video and movie​ size.
Features of Panda Video Compressor:
Compress video and reduce video size
Save space on your phone and in the cloud available for new videos, photos, apps, and games
Save mobile data usage
Send high quality video through email
Share compressed videos through social media platforms like Facebook, Instagram, Google +, Whatsapp, Viber,​ and Line
Supported Video formats:
mp4, avi, mkv, flv, rmvb, 3gp, mpeg, wmv, mov
Compress your favorite videos and easily share them on social media
Big video files are a huge problem for every smartphone user who wants to share and upload videos to Facebook or Whatsapp. It is time to save time and​ mobile data usage ​and start sharing reduced-size videos on Instagram, Twitter, Facebook, WhatsApp, YouTube, and other social media channels.
Free up space
Videos are important, but space on a smartphone is limited. Stop deleting your favorite ​photos, videos and mobile​ apps to free up space.
Panda Video Compressor will reduce the size of your videos, so that your smartphone or memory card will not keep running out of space. Start saving space in a smart way.
Reduce DATA usage
Would you like to share your video, but your data is limited, and you can't afford a better data pack? ​ This is especially relevant when you are abroad. You​ don't have access to Wi-Fi, but you still want to share a video? Not a problem. Just reduce your video size with Panda Video Compressor. It's this simple.
PANDA is the best video compressor and movie size reducer.
Now you are able to compress videos so easily. You can simply reduce the size of the video file without losing quality.
Compress video files to send via email
Panda is also a video compressor for email. Would you like to share your video via email, but your video size is too large? Reduce the video file size using the option "Fit to email" – sending video via email has never been easier. Email inboxes are often limited and there is a large need for resizing videos. Panda Video Compressor compresses and reduces videos down to the exact size (MB) you want without affecting the quality of video.
Share videos on social media even when your SIGNAL is weak
Have you ever tried to share a large video file, but your signal was weak, and you were unable to upload a great video? Panda video compression tool will help you to upload size-reduced videos.
Do you know that Video Compressor will resize your video without losing quality?
Just download the Panda Video Compressor and start compressing video sizes for social media channels. Start compressing videos and reducing the size of video files – follow simple and easy steps and save space both on your phone and in the cloud.
What's new:
– Fixed: Distorted videos.
Package Info:
● Supported Languages: af, am, ar, as, az, be, bg, bn, bs, ca, cs, da, de, el, en-AU, en-CA, en-GB, en-IN, en-XC, es, es-419, es-ES, es-US, et, eu, fa, fi, fr, fr-CA, gl, gu, hi, hr, hu, hy, id, in, is, it, iw, ja, ka, kk, km, kn, ko, ky, lo, lt, lv, mk, ml, mn, mr, ms, my, nb, ne, nl, or, pa, pl, pt, pt-BR, pt-PT, ro, ru, si, sk, sl, sq, sr, sr-Latn, sv, sw, ta, te, th, tl, tr, uk, ur, uz, vi, zh-CN, zh-HK, zh-TW, zu;
● Supported CPU architecture: Armeabi-v7a, Arm64-v8a;
● Supported Screen DPI: Ldpi, Mdpi, Tvdpi, Hdpi, Xhdpi, Xxhdpi, Xxxhdpi.
Mod Info:
● Premium Feature Unlock.
● A Skip Intro.
● All Unnecessary Menu Item Remove Like:
– Signup Text, Buy Premium Button, Feedback, Rate Us, Compress Photo, Crop Photo.
● Audience Network Remove.
● Ads Removed / Disabled.
● Analytics / Crashlytics Removed / Disabled.
● Receivers and Services Removed / Disabled.
● Google Play Store Install Package Check Disable.
● In-App Billing Service Removed / Disabled.
● Play Services, Transport, Firebase Properties Removed.
● All Unnecessary Garbage Folder & File Removed.
● Duplicate Dpi Item Remove Like:
– Bar Length, Drawable Size, Gap Between Bars.
● Splits0 File Removed (Resources & AndroidManifest).
● Splits0 Releated Unnecessary Meta-Data Remove Like:
– Stamp Source, Stamp Type Standalone Apk, Android Vending Splits, Android Vending Derived Apk.
● Optimized PNG Save To 995 Kb.
● Optimized JPG Save To 81 Kb.
● Re-Compressed Classes.dex & Library.
● Optimized Graphics / Zipalign.
● Removed Debug Information (Source, Line, Param, Prologue, Local).
This app has no advertisements
Screenshots
Downloads
Panda Video Compressor Movie & Video Resizer v1.1.62 [Mod] Armeabi-v7a APK / Mirror

Panda Video Compressor Movie & Video Resizer v1.1.62 [Mod] Arm64-v8a APK / Mirror
Older Version
Panda Video Compressor Movie & Video Resizer v1.1.60 [Mod] Armeabi-v7a APK / Mirror

Panda Video Compressor Movie & Video Resizer v1.1.60 [Mod] Arm64-v8a APK / Mirror
Panda Video Compressor Movie & Video Resizer v1.1.59 [Mod] Armeabi-v7a APK / Mirror

Panda Video Compressor Movie & Video Resizer v1.1.59 [Mod] Arm64-v8a APK / Mirror