A free lightweight Youtube frontend for Android.
NewPipe does not use any Google framework libraries, or the YouTube API. It only parses the website in order to gain the information it needs. Therefore this app can be used on devices without Google Services installed. Also, you don't need a YouTube account to use NewPipe, and it's FLOSS.
Features
Search videos
Display general information about a video
Watch YouTube videos
Listen to YouTube videos (experimental)
Select the streaming player to watch the video with
Download videos
Download audio only * Open a video in Kodi
Show Next/Related videos
Search YouTube in a specific language
Watch age restricted material
Display general information about channels
Search channels
Coming Features
Orbot/Tor support
Bookmarks
View history
Search history
Subscribe to channels
Watch videos from a channel
Search/Watch Playlists
Queeing videos
… and many more
Multiservice support
What's New
Fixed
Fix YouTube not playing any streams #8202
Fix YouTube age restricted videos being throttled TeamNewPipe/NewPipeExtractor#83
Development:
Update ACRA library #7679.
Improved image-minimizer #7884.
Change compileSdk from 30 to 31 #7900.
Small refactor in player class #7901.
Mod :
Languages: en, be, de, es, pl, pt, ru, uk
Removed analytics
Removed auto-update service
Removed trash
Completely redesigned translation
Optimized resources
This app has NO advertisements
Screenshots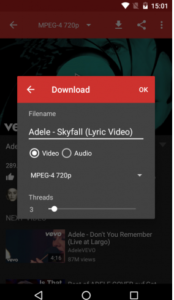 Downloads
Older Version