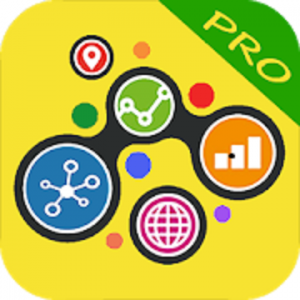 The best choice for network management with powerful and professional network tools focused in performance, accuracy and simplicity
Please be reasonable with the rating and feel free to report problems or bugs, we will fix them as fast as possible …
Available network tools and utilities :
Real time telephony monitoring graph
Real time network information
Real time network usage graph
Real time WiFi monitoring graph
Universal Scanner
Status Tracer
Speed Test
Ping
Multi Ping
Traceroute
Progressive Traceroute
Ports Scanner
Whois Query
LAN Scanner
Telnet Client
SSH – Secure Shell
FTP Client
WiFi Scanner & Analyzer
UPnP / DLNA Scanner
NSD – Network Service Discovery
Nmap Scanner (Network Mapper V. 7.31)
Packet Capture (tcpdump V. 4.9.2) – Root needed
Netcat (V.1.1.0) & Netcat (V.6)
iPerf 2 (V.2.0.5) & iPerf 3 (V.3.5)
Network Stress Tester
SSL/TLS Scanner & Analyzer
Web Crawler
ARP & ND Cache
NetStat Info
IP Calculator
IP Lookup
DNS Lookup
Finger Client
Wake on LAN
Add Devices and group in categories
Add Categories
Add Devices Information
Protect devices section with password
Each of network tools contains normal & advanced mode to use. They support different protocols like : ICMP, TCP, UDP, SCTP, HTTP, HTTPS ect …
Also you can find detailed documentation In-App for every network tool
Get in touch , will be adding soon many other great options, utilities, features and network tools in following !
If you want to translate into your own language, please contact us
Help us with reporting crashes or bugs in our email address
Thank you !
What's New
* Fixed a bug when extracting datas
* Added native Speed Test tool (via Python native) -> Android 5+
* Added SQLMap Scanner -> Android 5+
* Fixed an issue that displays black screen on app start
* General bug fixes
* Fixed Speed Test Normal to support greater speeds than 50Mbps
* Fixed FTP Server issue
* Improvements for stability and performance
* Getting ready for more improvements, fixes and tools
Mod Info:
★ No Root or Lucky Patcher or Google Play Modded required
★ Debug Info removed
★ Original package signature changed
➡ Languages: Full Multi Languages
➡ CPU architectures: armeabi-v7a, x86
➡ Screen DPIs: 120dpi, 160dpi, 240dpi, 320dpi, 480dpi, 640dpi
This app has no advertisements
Screenshots
Downloads
Network Manager v19.5.0-PRO [Patched] APK / Mirror
Older Version
Network Manager v18.7.2-PRO [Patched] Android 10 Arm64_v8aSAP APK / Mirror
Network Manager v18.6.8-PRO [Patched] Android 4.1 to 9 SAP APK / Mirror

Network Manager v18.6.8-PRO [Patched] Android 10 SAP APK / Mirror