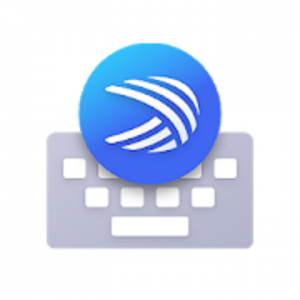 Microsoft SwiftKey Keyboard
SwiftKey Keyboard uses Artificial Intelligence to automatically learn your writing style, including the emoji you love to use (if you use emoji), the words that matter to you and how you like to type.
Upgrade your phone's keyboard to SwiftKey Keyboard for free – and get more done without fussing over typos. Join over 250 million people worldwide who use SwiftKey Keyboard for hassle-free typing.
That means autocorrect and predictive text that actually works because it adapts to you.
SwiftKey Keyboard caters for all typing tastes – all colors, designs and themes. Support for 150+ languages. Tapping or swipe-to-type. Tons of emoji (smileys, emoticons). No emoji. Or emoji keyboard predictions learned from how you've used emoji before.
– Kills your typos
– Type faster with A.I.-powered predictions
– Simply swipe-to-type with SwiftKey Flow
– Autocorrect that actually works
– Always learning your slang, nicknames and phrases
– 80+ colors, designs and themes
– Emoji keyboard – learns and predicts your favorite emoticons
– Bilingual autocorrect across 200+ languages
– Teach the autocorrect your quirks from your online accounts
Find out more about SwiftKey's key features:
Supports 200+ languages, including:
English (US, UK, AU, CA)
Spanish (ES, LA, US)
Portuguese (PT, BR)
German
Turkish
French
Arabic
Russian
Italian
Polish
SwiftKey Keyboard requests access to your SMS messages in order to improve word predictions based on what you've typed before.
Whats New:* We've fixed an issue that made the keyboard provide corrupted suggestions learnt from Firefox's auto-completable text fields.
* You can now type in Bilen, Silt'e and Tigrayit.
MOD INFO:
• Custom, ported and stock themes with larger fonts
• Auto-punctuation fixed for colon, dash, hyphen and some other characters
• Authorization and sync personal dictionary works with Microsoft and Google (need authorization to disable AdGuard, hosts, DNS, etc.)
• The name is simply "SwiftKey"
• Sound of pressing keys "iOS" (can be enabled in settings – sound and vibration – sound profile)
• Removed the support button «i» from the keyboard toolbar
• Offline English(US) language pack
• Additional characters on the English(US) layout by long pressing the key
On which letters are additional characters added:
C – herringbone quotes « »
G – hyphen —
V – apostrophes ' `
F – accént
R – copyright mark © ℗
In order for additional characters to appear on the layout, the mod must be installed cleanly, or after installation, reset the application data. Before that, in order to avoid loss, do not forget to synchronize your personal dictionary with your account.
• Multi languages
———————————-
NEW:
Auto-punctuation: colon and semicolon behave the same as period and comma
What's New:
General improvements to ensure your Microsoft SwiftKey Keyboard runs smoothly.
Screenshots
Downloads
Microsoft SwiftKey Keyboard v8.10.11.3 Final [Mod] Armv7 APK / Mirror

Microsoft SwiftKey Keyboard v8.10.11.3 Final [Mod] Arm64 APK / Mirror
Older Version
Microsoft SwiftKey Keyboard v7.9.7.11 Final [Mod] Armv7 APK / Mirror

Microsoft SwiftKey Keyboard v7.9.7.11 Final [Mod] Arm64 APK / Mirror
Microsoft SwiftKey Keyboard v7.1.5 Beta [Mod] Armv7 APK / Mirror

Microsoft SwiftKey Keyboard v7.1.5 Beta [Mod] Arm64 APK / Mirror