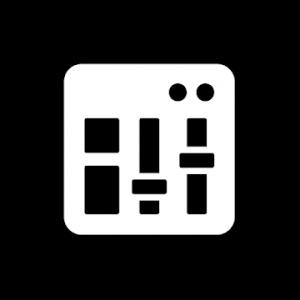 G-Stomper Producer is a fast and flexible Music Sequencer and Digital Audio Workstation, designed for use in live performance as well as for production. It comes with a powerful Drum Sampler, a polyphonic and multi-timbral Virtual Analog Performance Synthesizer (VA-Beast), Sounds, Effects, Sequencers, Pads and Keyboards, a graphical Multi-Track Song Arranger, and many other creative features that help you to create your own music.
Jam live, improvise and let the music happen spontaneously, play patterns of different lengths/quantizations, simultaneously and in any combination, without having to stop the sequencer at any time, and finally write your creation down as a Song.
Instruments and Pattern Sequencer
• Sampler/Drum Machine : Sample based Drum Machine, max 24 Tracks
• Sampler Note Grid : Monophonic Melodic Step Sequencer, max 24 Tracks
• Sampler Drum Pads : 24 Drum Pads for live playing
• VA-Beast Synthesizer : Polyphonic Virtual Analog Performance Synthesizer (Advanced FM support, Waveform and Multi-Sample based Synthesis)
• VA-Beast Poly Grid : Polyphonic Step Sequencer, max 12 Tracks
• Piano Keyboard : On various Screens (8 Octaves switchable)
• Timing & Measure : Individual Swing Quantization, Time Signature, and Measure per Track
Mixer
• Line Mixer : Mixer with up to 36 Channels, Parametric 3-band Equalizer + 2 Insert Effect Units per Channel
• Effect Rack : 3 chainable Effect Units
• Master Section : Master Out, Parametric 3-band Equalizer, 2 Insert Effect Units
• Tempo Track : Dedicated Sequencer Track for Tempo Automation
Arranger
• Pattern Arranger : Live Pattern Arranger with 64 concurrent Patterns per Track
• Scene Arranger : Up to 64 Scenes for creative Live Arrangements
• Song Arranger : Graphical Multi-Track Song Arranger with up to 39 Tracks
Audio Editor
• Audio Editor : Graphical Sample Editor/Recorder
Feature Highlights
• Ableton Link: Play in sync with any Link-enabled app and/or Ableton Live
• Full round-trip MIDI integration (IN/OUT), Android 5+: USB (host), Android 6+: USB (host+peripheral) + Bluetooth (host)
• High Quality Audio Engine (32bit float DSP algorithms)
• 47 Effect Types: 4 Compressor/Limiter types, 4 (8-Band) Vocoders, 8 Resonant Filters, Gate, Transient Shaper, Chorus/Flanger, 2 Phasers, Tremolo, Auto Panner, 5 Delays, 2 Reverbs, 2 Pitch Shifters, Granulator, Stereo Enhancer, Stereo Tool, Exciter, Bottom Booster, Bit Crusher, Waveshaper, Distortion, 2 Overdrives, Saturation, Bender Distortion, 2 Equalizers, Pan/Vol
+ Side Chain Support, Tempo sync, LFO's, Envelope Followers
• Per Track/Voice Multi-Filters
• Real-Time Sample Modulation
• User Sample Support: Uncompressed WAV or AIFF up to 64bit
• Tablet optimized
• Full Motion Sequencing/Automation Support
• Import MIDI files/songs
Full Version only
• Support for additional Content-Packs
• WAV File Export, 8..32bit up to 96kHz: Sum or Track by Track Export for later use in the Digital Audio Workstation of your choice
• Real-Time Audio Recording of your Live Sessions, 8..32bit up to 96kHz
• Export Scenes as MIDI for later use in your favorite DAW or MIDI Sequencer
• Share your exported Music
Support
FAQ: https://www.planet-h.com/faq
Support Forum: https://www.planet-h.com/gstomperbb/
User Manual: https://www.planet-h.com/documentation/
Minimum recommended device specs
1.2 GHz quad-core cpu
1280 * 720 screen resolution
Headphones or speakers
Check out the free demo before buying the full version
Permissions
Storage read/write: load/save
Bluetooth+Location: MIDI over BLE
Record Audio: Sample Recorder
You are now ready to download G-Stomper Producer for free. Here are some notes:
Please read our MOD Info and installation instructions carefully for the game & app to work properly
Downloading via 3rd party software like IDM, ADM (Direct link) is currently blocked for abuse reasons.
What's New:
Fixed the full screen bug related to the navigation bar on Android 13
This app has no advertisements
Screenshots
Downloads
Older Version