EZAudioCut-MT is a multi-track audio editor and a portable audio editor with the essence of DAW on PC platform. If you've used Audition, Cool Edit, and other similar software, it's easy to get started.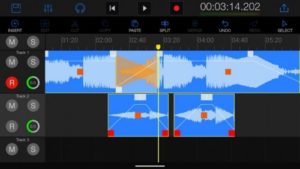 EZAudioCut-MT inherits the precision editing characteristics of single-track editing products and supports precision zooming and precision editing. You can drag from your PC to complete complex audio editing. TheEZAudioCut-MT supports simultaneous editing of up to 64 audio tracks and provides waveform previews for real-time editing.
Record multi-track accompaniment with EZAudioCut and record as you play. Supports falling and rising sounds. (I can't find the accompaniment for boy and girl versions. No problem. With EZAudioCut-MT you can lower the key and record your personal perfect scale).
Support accompaniment production, can't find the accompaniment you want, remove vocals with original vocals, get the accompaniment you want. Supports multiple companion extraction modes.
A variable audio speed effect allows for multi-speed playback of recordings. The supports adsorption function and can be quickly adjusted to the desired position. Supports multi-track splicing, mixing multiple audio data, arranging, etc. Perform various audio editing tasks. Supports speech noise reduction. The sampling neural network noise reduction algorithm powerfully removes the noise floor of speech. Compatible with metronome.
Easy Cut Multi-Track Version (EZAudioCut-MT) has the following features
● Ultra-high-precision editing, up to 64-track mixing
● Audio accompaniment extraction, vocal elimination (center channel extraction method)
● Brand new pitch shift, speed change, better pitch-down and pitch-up effect
● Powerful RNN voice noise reduction function
● Superb sound processing
● Support for importing external links of online songs
● Able to record sub-sections and sub-tracks to better produce covers and sings
● Support external microphone with better sound pickup
1. High-precision editing, zooming, real-time audition, pre-listening and preview effects.
2. Support copy, paste, intercept, gain, split, merge, move, snap, fade in, fade out, cross fade in and fade out effects.
3. Support audio track volume gain, single block volume gain, range volume gain, volume line editing (volume partial gain or reduction).
4. Support for Noise Reduction, Vocal Remove, Center Channel Extract, EQ, Reverb, Delay, Speed, Tempo, pitch sound effects.
5. Support earphone monitoring, input gain, metronome function during recording.
6. Supports importing from multiple sources (recording, downloading from external links, sharing with other apps, video extraction and audio).
7. Support multiple quality (44k, 32k, 16k) and multiple formats (m4a, mp3, aac, aifc, wav) audio export.
8. Support network song external chain download and import editing function.
9. Support video extraction audio function (video to audio), support audio format transcoding.
10. Support undo and redo (maximum 50 steps).
11. Support the recycle bin function.
12. Support single recorder function.
What's New:
1) Optimize the program and fix bugs.
This app has no advertisements
Screenshots
Downloads
Older Version