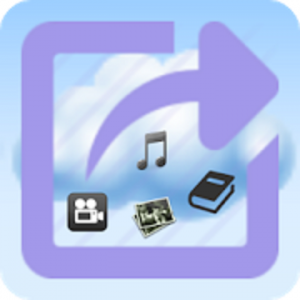 The server distributes by default all video, photo, music and eBooks (including .pdf) to clients on Wi-Fi network and Internet.
It can be used by standard UPnP clients on the Wi-Fi network, but you can also use your favorite Web browser for accessing your video,
music, photos and pdf (located in the Android server) on the Wi-Fi network.
When using a Web browser as client you can write comments with emoticons everywhere in the page. Only the writer of a comment and the administrators
can delete it. The files can be set inside a category to be distributed in short lists to some specific users.
You can give details on your photos ,videos, … in comments, and the users can write what they think about it.
You can select multiple files of the same type at once for playing on the web page.
If you have already an UPnP server running in your PC or iMac, you can use the client to access it.
The TV set with a Wi-Fi adapter (eventually through the DVD reader) can easily use the server over Wi-Fi for looking at videos and photos.
The configuration is dynamic but it looks better to override the default server name, font size, and user names and passwords before real use.
This application supports many languages (Amharic, Arabic, Armenian, Azerbaijani, Belarusian, Bengali, Bulgarian, Burmese, Catalan, Chichewa, Chinese, Croatian, Czech, Danish, Dutch, English, Filipino, French, Georgian, German, Greek, Hausa, Hebrew, Hindi, Hungarian, Igbo, Indonesian, Italian, Japanese, Kazak, Khmer, Korean, Kurdish, Kyrgyz, Malay, Mongolian, Nepali, Norwegian, Persian, Polish, Portuguese, Punjabi, Romanian, Russian, Slovak, Slovenian, Serbian, Spanish, Swahili, Swedish, Tagalog, Thai, Tajik,
Turkish, Ukrainian, Uzbek, Vietnamese, Yoruba and Zulu).
By default this application uses the Android system language but you can use any of the 32 languages, all user interfaces are configured dynamically including the Web page.
For reading eBooks on Wifi, another product is required: Acrobat Reader, qPDFViewer, FBReader, CoolReader or ZoReader.
For reading eBooks remotely with HTTP, you need to configure your browser or to use an eBook reader able to use OPDS catalogs.
What's New:
– Keeping application up-to-date for Android 13 requirements
– upgrade ExoPlayer library to 2.18 version
Package Info:
Languages: Full Multi Languages;
[*]CPUs: universal architecture;
[*]Screen DPIs: 160dpi, 240dpi, 320dpi, 480dpi, 640dpi;
[*]Untouched [Paid] apk with Original Hash Signature, no [Mod] or changes was applied;
This app has no advertisements
Screenshots
Downloads
Older Version