Our widget clock is a very simple but highly efficient app that allows you to customize your home screen with a date and time widget. This large clock display helps you see time and date easily without stressing your eyes.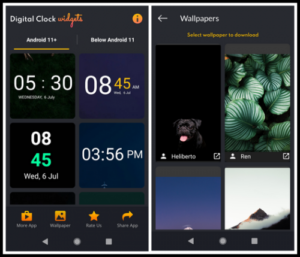 Take a look at the Key Features of this app widget:
– During setup, see the widget preview.
– Customize as per your wish. Keep or remove the current background of the screen.
– Select your preferred colors for date and time
– See hour always as two digits. If you want, you can remove the zero anytime.
– Select your preferred minute color
– Select your favorite day color
– Use this as 24 – hour clock or 12- hour format.
What's new:
– 2 New Clock Added.
– Wallpaper Error Solved
Paid Info:
● Supported Languages: af, am, ar, as, az, be, bg, bn, bs, ca, cs, da, de, el, en-AU, en-CA, en-GB, en-IN, en-XC, es, es-419, es-US, et, eu, fa, fi, fr, fr-CA, fr-FR, gl, gu, hi, hr, hu, hy, in, is, it, it-IT, iw, ja, ka, kk, km, kn, ko, ky, lo, lt, lv, mk, ml, mn, mr, ms, my, nb, ne, nl, nl-NL, or, pa, pl, pt, pt-BR, pt-PT, ro, ru, si, sk, sl, sq, sr, sr-Latn, sv, sw, ta, te, th, tl, tr, uk, ur, uz, vi, zh, zh-CN, zh-HK, zh-TW, zu;
● Supported CPU architecture: None;
● Supported Screen DPI: Ldpi, Mdpi, Tvdpi, Hdpi, Xhdpi, Xxhdpi, Xxxhdpi.
● Untouched Paid Apk With Original Hash Signature.
● Certificate MD5 Digest: 75524c74b50b2b5ed44bcb52de0b321b.
This app has no advertisements
Screenshots
Downloads