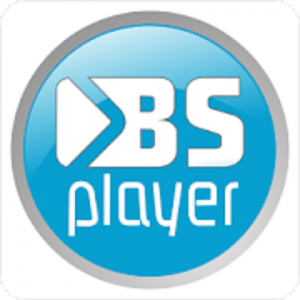 This is the full version of the BSPlayer media player for Android with all its features and capabilities. BSPlayer is a media player that supports Android devices including smartphones and tablets. It features hardware-accelerated video decoding, automatic subtitle search, and buffered network playback from an SMB share.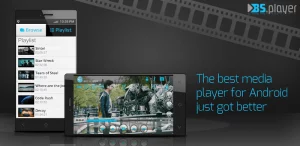 Main features
– ONLY in full version: experimental support for Chromecast (most mp4's are supported)
– NO ADS
– Android 6.0 compatibility
– hardware accelerated video playback – significantly increases playback speed and reduces battery consumption, supporting multi-core (dual and quad-core) hardware decoding*
– audio pre-amplification ("volume boost" – user definable up to 500%)
– playback in popup window (audio and video)
– aspect-ratio adjustments and zoom
– multiple audio streams and subtitles
– supports customizable gestures for Seek, Jump, Brightness and Volume control, exit to popup video
– playlist support and various playback modes.
– support for audio headsets and external Bluetooth keyboards
– customizable audio offset, playback speed, gestures and keys
– external and embedded subtitles ssa/ass, srt, sub, txt…
– Automatic subtitle search (mobile or Wi-Fi connection must be enabled to work)
– playback media files such as videos and mp3's directly via Wi-Fi from your network shared drives/folders (such as external USB drives, SMB shares, PC shared folders, NAS servers (Synology and others)) – no need to convert video files and copy media files to SD card
– Playback files directly from uncompressed RAR files
– Lock screen to prevent accidental change of videos (child lock)
– support for USB OTG (On-The-Go) and much more!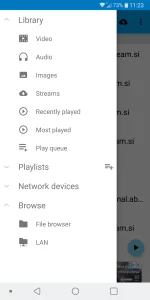 Licensing troubleshooting
– If after the purchase and installation of the app you get a license failure notification, this is because the purchase may take some time to be recorded on the Google license server. It will resolve within a few hours or you can try re-installing and restarting your device.
– If you get "Not compatible with your device" from the Market App, please try clearing your Market App Cache (Settings, Applications, Market, Clear Cache) and restarting your device.
– BSPlayer app uses Google's standard licensing service. Keep Wi-Fi or mobile data enabled at the the first run of application. Further internet connection will not be required. Also, for existing users having problems with licensing – you may try "Clear app data" function and run app with internet connection enabled. This should license your app.
This package includes support for ARMv7 with VFP and NEON. For other CPU types please download appropriate package. Application will notify you which package you need.
You are now ready to download BSPlayer Pro for free. Here are some notes:
Please read our MOD Info and installation instructions carefully for the game & app to work properly
Downloading via 3rd party software like IDM, ADM (Direct link) is currently blocked for abuse reasons.
Package Info:

Languages: Full Multi Languages;

CPUs: armeabi-v7a, arm64-v8a;

Screen DPIs: 120dpi, 160dpi, 240dpi, 320dpi, 480dpi, 640dpi;

Untouched [Paid] apk with Original Hash Signature, no [Mod] or changes was applied;

Certificate MD5 digest: adf74d6aa8f511d2ed7e02319c1d1bf6
WHAT'S NEW
– stability improvements and bug fixes
This app has no advertisements
Screenshots
Downloads
BSPlayer Pro v3.18.244-20230605 APK [Paid] Armeabi-v7a / Mirror

BSPlayer Pro v3.18.244-20230605 APK [Paid] Arm64-v8a / Mirror
Older Version
BSPlayer Pro v3.18.243-20221209 APK [Paid] Armeabi-v7a / Mirror

BSPlayer Pro v3.18.243-20221209 APK [Paid] Arm64-v8a / Mirror
BSPlayer Pro v3.17.241-20221028 [Paid] Armeabi-v7a APK / Mirror

BSPlayer Pro v3.17.241-20221028 [Paid] Arm64-v8a APK / Mirror