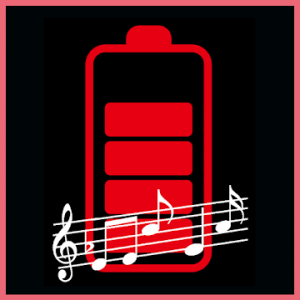 You can use music of your choice for the notification.
Save the battery life by using this app.
Please install the app tells you to start running services.
After charging cables to the battery fully charged when the music tells.
[NOTICE]
If you use any task killer or Ram cleaner app, please add this app to ignore list or white list. Otherwise, battery alarm may not work properly
In the security settings, please include the app for auto start. In some phones you need to turn on auto start option in background run setting.
[How to use]
1. When your phone is connected to the charge cable, the during-charge screen will be exposed.
2. When charging is completed, music of your choice will be played.
3. You can choose alarm music by pressing and holding on the song on your music list.
[New]
– Music stops when the charge cable is separated.
– You can control volume of the music.
– Cable connection will be notified by the default phone ring tone.
– You can set'Do Not Disturb'time.(Silent Time)
– You can use push notifications.
– You can use voice notification feature.
– You can use a quick charge function.
– You can check the battery charge on the top of the screen. (Checking this is show remaining Battery life on indicator)
– Supports battery widget.
★healthy charge★
Step 1: Quick charge → Step 2: Full charge → Step 3: Trickle charge
As fast charging progresses, you can change settings for Wi-Fi, Bluetooth, screen brightness, synchronization, etc. to speed up charging.
But it does not guarantee charging speed.
When charging is complete, disconnecting the cable or stopping the fast charging, you will return to the previous setting.
It never damages the battery or shortens the battery life.
Keep your battery healthy with safe charging.
★ top of the screen displays the remaining battery
0-20%: red
21-69%: yellow
70 to 100%: Green
Charging complete notification app does not collect any personal information.
It Contains Google admob ads in the app.
Thank you for using the "Battery charge sound alert" app.
[Notice]
For Samsung phones and Xiaomi phones, the app may not work properly.
Separate settings are required. Please refer to the following link for setting method.
* How to set Samsung phone
– Android 6.0 or lower
http://ddolcatmaster.tistory.com/132
– Android 7.0 or later
http://ddolcatmaster.tistory.com/129
What's new
-Fixed an error
-If the app does not work, exclude it from battery optimization.
MOD Features:
Ads removed / disabled
Analytics disabled
This app has no advertisements
Screenshots
Downloads
Battery charge sound alert v3.6.1 [Mod Ad Free] APK / Mirror

Battery charge sound alert v2.0.0 [Mod Ad Free] APK / Mirror