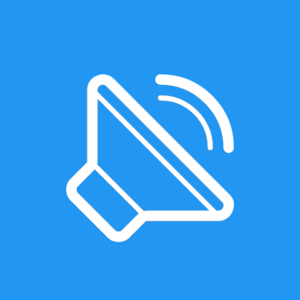 Use your phone as wireless speakers with AudioRelay. Just install the companion app on your PC to be able to stream any sound to your Android device.
Easily listen to music, movies or games wirelessly from your device.
Features
– Lag free
– Simple setup: automatically discovers your PC
– Resilient: automatically recovers from connection loss
– Uses audio compression to reduce network usage (https://opus-codec.org/)
Premium
– Play/pause playback directly from the notification
– Remove ads
– Future premium features
Audio hiccups can occur in the following situations:
Your PC or Android device is put under strain by other processes
Your wifi signal is too weak (e.g: you are too far from your router)
Beware that constantly receiving audio in real-time is quite an intensive task, the app will probably use a good amount of battery.
The app displays ads but doesn't do any audio interruption.
Visit _https://audiorelay.net to install the server on your PC.
At the moment, only Windows is supported.
Technical
The app uses the ports 59100 and 59200.
What's New:
– Automatically search for servers
– Added Arabic and Norwegian translations (thanks to the contributors at https://translations.audiorelay.net)
– Updated the Premium screen to make it easier to switch to Lifetime
– Fixed a memory leak occurring when enabling Noise suppression. It caused a crash when running after a while
– Fixed a crash occurring when streaming uncompressed data on a connection getting a lot of packet loss
– Fixed a crash that happened after changing the device's name
This app has no advertisements
Screenshots
Downloads
AudioRelay: Stream audio & mic v0.26.1 [Premium] APK / Mirror