AppLock PRO is a must-have personal security app to secure your privacy and it supports for fingerprint, password or pattern lock. Choose your own favorite style to lock apps. AppLocker can be used to lock Facebook, WhatsApp, Instagram, Snapchat, Gallery apps with password to prevent the apps from being exposed by snooper!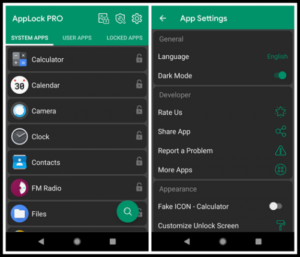 Main Features :
– Support for fingerprint, password and pattern lock.
– Prevent unauthorized access by catching people who secretly unlock your private apps.
– Easy-to-use and user-friendly GUI.
– You can lock an unlimited number of applications.
– Only you can access the locked applications by entering the passcode.
– Lock newly installed apps.
– Lock settings to prevent misuse of the phone to change the system settings.
– AppLocker can be used to lock social media apps, messaging apps, contacts, settings and any app you want.
– Invisible Pattern Lock – Option to make invisible pattern on unlock screen for extra security, so that people cannot see your pattern lock screen while you are unlocking.
– Intruder Selfie – Snap a picture of intruders.
– Privacy Guard – Hide your personal pictures and videos by locking gallery and photo apps with AppLocker.
– PIN Lock – Support for random keyboard. Much safer for you to lock apps.
– Customize Theme – Choose your own favorite color or picture for unlock screen.
– Replace App Lock ICON – App Locker allows users to change its icon to one that looks like a Calculator on the home screen. Easy to confuse snoopers and safeguard your privacy!
What's new:
Thanks for using AppLock PRO – Fingerprint, PIN & Pattern! We bring regular updates to improve performance and reliability.
Paid Info:
● Languages: af, am, ar, as, az, be, bg, bn, bs, ca, cs, da, de, el, en-AU, en-CA, en-GB, en-IN, en-XC, es, es-419, es-US, et, eu, fa, fi, fr, fr-CA, gl, gu, hi, hr, hu, hy, in, is, it, iw, ja, ka, kk, km, kn, ko, ky, lo, lt, lv, mk, ml, mn, mr, ms, my, nb, ne, nl, or, pa, pl, pt, pt-BR, pt-PT, ro, ru, si, sk, sl, sq, sr, sr-Latn, sv, sw, ta, te, th, tl, tr, uk, ur, uz, vi, zh, zh-CN, zh-HK, zh-TW, zu;
● Supported CPU architecture: None;
● Supported DPIs: Ldpi, Mdpi, Tvdpi, Hdpi, Xhdpi, Xxhdpi, Xxxhdpi.
● Untouched Paid Apk With Original Hash Signature.
● Certificate MD5 Digest: 2ecabe45ac4621d2ea158fe07db9f2a4.
This app has no advertisements
Screenshots
Downloads
AppLock PRO – Fingerprint, PIN & Pattern (No ads) v1.0.5 [Paid] APK / Mirror