Big keyboard for fat fingers with big buttons.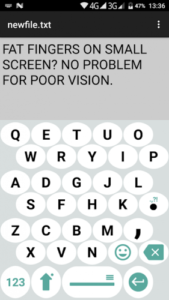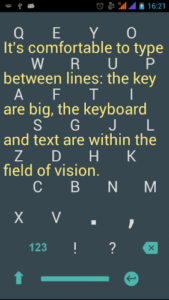 I am 58 and my vision is far from perfect. I have fingers on my hands – not matchsticks, so I designed this keyboard for myself. If you're under 35 and have no problems with vision, please do not install. You will need it later. But maybe it will be a good lifehack for your parents now.
Eugene Sotnikov, 1C Wearable
This ergonomic keyboard for Android allows using 100% of your phone's screen for big keys making it indispensable on small screen devices and for fat fingers (100% is not an advertising slogan: it is literally 100%). Swipe up to switch into 100% display mode.
This big keyboard preserves your vision and reduces eye strain.
Big keyboard keys are easier to hit – less typos.
The layout of this large keyboard for Android is easy to learn – it's a QWERTY keyboard smartly compressed into extra large keyboard, what makes it ideal for large hands.
What's New:
No changelog
This app has no advertisements
Screenshots
Downloads